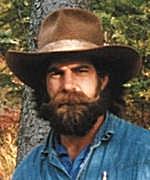 May 24, 2002
Coach to some ... friend to many
As Joanne Smith sits in her Sky chair over looking her Lazy Mountain home, a hot sun warming her cheek, a bald eagle soars overhead, tipping its wing to her, as if to let her know she is not alone.
Joanne is on her own for the first time in 29 years after her husband, Lancer Smith, passed away two weeks ago after battling brain cancer for nearly four years. But looking up at that eagle, its wings stretched as wide as Lancer's powerful arms once could reach, she knows she really is not alone.
"That eagle has been flying around here for a long time, and I think I finally know what it means," Joanne said Tuesday afternoon. "I think I know Lancer is up there, watching over us." Joanne Smith will never be alone.
Loving Lancer
Lancer Smith came to Alaska in the summer of 1971, three years after being selected as an alternate for the U.S. Olympic Wrestling Team for the 1968 Mexico City Games. Wrestling was in his blood, but quickly, the love of Alaska was just as strong in his heart. His parents first visited later that year, and he took them to Trapper Creek, where he parked the car and headed into the woods, without a trail to follow. See, Lancer Smith created his own trails in life.
That's exactly how Joanne remembers him. A tall and rugged man, Lancer was as handsome as he was strong. A full, thick head of hair framed his head, which was rounded out with his trademark beard and mustache. Joanne fell for the man at first sight. "He caught my eye immediately," she said. "It was just his persona. I thought, 'You want to date me? YES!' I didn't know it would turn into this life."
They made their home on Lazy Mountain, calling the sprawling area Lancerland. The couple had two daughters, Kaycee and Kelly, and turned their attention to coaching young people in the sports they love - for Lancer, that was wrestling, and for Joanne it was cheerleading. "Those were the fun times," Joanne recalled. "I remember long bus rides with our two teams. Those were the good times." Behind Lancer, the man, stood a very supportive wife, said Kodiak wrestling coach Pat Costello, another longtime wrestling coach who remained close to Lancer. "He had the good fortune to marry an outstanding woman in Joanne," Costello said. "For everything good or bad with Lancer, Joanne was behind him. She is a great woman who is also a legend. "My family spent time up on the mountain with him and his family, fishing, horseback riding and telling stories," Costello said. "Those are good memories for me."
Coach Smith
Lancer Smith touched a lot of lives in his 53 years. He was a tremendous wrestler - a college All-American and an Olympian - and an even better coach. For 18 years, he mentored young men on the Palmer High School wrestling teams, and for three years, he coached Colony wrestlers. He was inducted into the Alaska Wrestling Hall of Fame in 1988.
When describing any person, it is easy to mention all the awards and all the recognition they have received, and hope that paints a picture of the person. But all of those accolades don't begin to describe Lancer Smith. Yes, he was one of the best coaches the state has ever seen, in any sport for that matter. He was a coach to many, but a friend to many more.
During the wrestling season, Smith's family would grow, Joanne said, because of how involved Lancer was with his teams. "Every year, we would have 17 sons," Joanne said. "Each one of them has touched our lives in some ways, some more than others. A lot of those wrestlers have stayed close to Lancer after they got out of high school, and that meant a lot to him. "I know that I am the coach I am today because of Lancer Smith. He taught me just to have fun, and to teach young people what they need taught," Joanne said. "I know some of those wrestlers may not have graduated had it not been for Lancer's involvement with their lives. I know it because they told Lancer."
Duncan Shackleford wrestled for Lancer and has remained close to him. Now the football coach at Dimond High School, Shackleford has won two state titles in the last two years. "At last year's state wrestling meet, I was talking to Lancer and he told me that he was always proud of me because I was one of his boys," Shackleford said. "And that meant more to me than any state championship ever will." Many of the young men he taught weren't necessarily great wrestlers or terrific athletes, Shackleford said. "He had a way of taking the black sheep of the group and doing something with them," Shackleford said. "He took the boys that had a lot of problems and made them 'Lancer's boys.'"
Through 21 years as a coach, Lancer worked with hundreds of boys from the Valley, and thousands others throughout the state. He was a jovial man, quick to help a wrestler, regardless of what the school name was on the jersey. His legend is well known throughout Alaska, as well as the Lower 48, thanks to his prowess on the mat in his younger days, and his wrestling camps hosted as a coach. "You can't go to any wrestling tournament in the country where half the people don't know and respect Lancer," Costello said. "That is part of who he is. He touched the lives of more students in Alaska than anybody I have ever met." Costello said his son, who was five at the time, came up with the perfect description of Lancer. "He told me he looked like Paul Bunyan, and that has stuck with my family," Costello said. "He truly was the Paul Bunyan of Alaska wrestling. Everything - the atmosphere around him, his size - live up to that legend."
Off the mat
The simplicity of Lancer Smith's life was also the complexity of it. His Lazy Mountain home is still partly unfinished, tucked up the mountain, out of the hustle and bustle of the daily grind found below. Wolverine Creek can be heard from the deck, and a certain tranquility radiates from the home. But look a little closer, and you'll see the trinkets of a life lived to its fullest. His Carhartt hat, weathered beyond its years, hangs from a post. His rustic wooden furniture sits in the upstairs of his home - his shop - but it may as well be in a furniture store, commanding top dollar for the impressive workmanship. The saw mill is down below the deck, in a gravel pit over which the eagle likes to soar. A Civil War saddle rests on the floor, waiting for Lancer to polish it and restore it. Horse owner, saw mill operator, furniture craftsman, hunter, fisherman, coach, son, husband, father - Lancer wore every title proudly, putting everything he had into every endeavor. "He certainly was a man of many talents," Joanne said. "He taught a lot of people about a lot of things, and they never even knew it. Neither did he, I bet."
Brad Hanson, who is also assistant football coach at Palmer High School, said through the years, one thing that impressed him was Lancer's commitment to youth in the Valley. "It's pretty refreshing to see his perspective on youth activities here," Hanson said. "His heart was for the kids, not for anything else. He started youth wrestling programs and always had an eye out for the kids."
While Shackleford said that Lancer certainly "was no angel," his generosity was unmatched. "I was 12 I think, and he had a wrestling camp. My parents couldn't afford the 80 bucks for me to go,but Lancer had me work three days sawing lumber at his place to cover the cost, and I got to wrestle," Shackleford said. "He was a mountain man with a mountain man's way of thinking, but he was quick to give you the shirt off his back if you needed it. He would do anything to help anybody. He epitomizes the Alaskan spirit," Shackleford said. "He chopped his wood hard, led his life well and had power in his handshake."
Life's challenges
Lancer Smith was diagnosed with a brain tumor in the fall of 1998, after suffering a seizure. He had surgery to remove the tumor in November, and that began a four-year fight.
"Lancer was always up for a challenge," Joanne said. Even though it was a challenge he could not win, Lancer did his best to fight against the mass in his brain. After surgeons removed a part of his brain where the tumor was, he had a hard time communicating because his speech was limited. Surgery could take part of his brain, but not his drive.
In the years following the diagnosis, Lancer put a roof on the family home on Lazy Mountain, and finished a number of furniture projects around the house. He could be found out in the saw mill, working as hard as ever. His zest for life could not be deterred by a simple lump in his head, and he fought to stay active. "He couldn't tell the kids the moves, but he never lost the ability to show and teach kids through his actions," Costello said. "He was quick to help a student on the mat, even though he wasn't coaching any more."
At home, Lancer kept working until the cancer caught up with him. "He was able to go up the stairs and be at home where he was happy," Joanne said. "I know it was hard for him not being able to talk the last few months, but he was where he was happy."
On May 8, more than five months after he was told he only had six weeks to live, Lancer Smith passed away at home with family by his side.
Serenity
Since that day, Joanne has faced every day with a good outlook. She knows Lancer will forever be a part of her life, and the eagle flying high in the sky only reaffirms those beliefs.
On June 2, services will be held at, appropriately enough, Palmer High School for a man who touched the lives of young men and women around the state. Several hundred people are expected to attend the 1 p.m. memorial service. "If everybody shows up who Lancer knew and helped, I don't think the Valley could hold that many people," Shackleford said with a chuckle. "That says a lot about the man. He wasn't a goody-two-shoes type of man, but at the same time, he was a very caring individual." Close friends and family are then going to "Lancerland" for a barbecue and a celebration of his life.
Later in June, Joanne and her daughters are going to make a hike they hoped they never would have to make. Joanne and the girls are going to set out on a six-hour hike from their home to Lancer's favorite hunting spot. They are planning to spread his ashes there, high up in the hills, and hang his hat one last time at the spot where Lancer spent so much time. "I think that was his most peaceful spot, and I know he would like to be up there forever," Joanne said. "He'll be up there, keeping an eye out for me and his girls"
Article Authored by CASEY RESSLER - Frontiersman Valley Life editor